Breakfast with Santa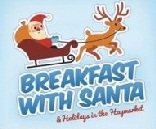 Date: December 9, 2017
Time: 8:00 - 11:00 a.m.
Location: Candy Factory Atrium (800 P St.)
The Lincoln Haymarket Development Corporation will once again host Breakfast with Santa on Saturday, December 9th, 2017. The event will be held from 8:00 am to 11:00 am in the Atrium of the Candy Factory, located between 7th & 8th Streets on P Street in the Historic Haymarket District.  
The event will start with breakfast catered by Lazlo's, coffee from The Mill and Holiday music provided by pianist Dorothy Applebee.  Children and their families will be able to have their picture taken with Santa and visit Santa's Sleigh & Reindeer parked outside the Candy Factory.    Our Elf friends from The Haymarket Theatre will be there to entertain, there will be Toy Trains to view and Holiday movies will be playing on the TV Screens. 
Tickets are $6 for ages 4 years and up while admission is free for children 3 years and under.  
Tickets: 
$6
Ticket Locations:
The Mill
From Nebraska
Burlington Antiques
Downtown Lincoln Association
The Haymarket Office
Buzzard Billy's. 
Tickets will also be sold at the door on the day of the event while they last.
Immediately following Breakfast with Santa, experience Haymarket Unwrapped from 11am-6pm.  Haymarket's unique array of specialty shops are offering sales, shopping, culinary delights, live music and more!  This FREE event will allow shoppers to enjoy special discounts, prizes, treats, live entertainment and special Pedi cab sleigh rides as you stroll through Downtown Lincoln's Historic Haymarket District.
Also, be sure not to miss Holidays in the Haymarket on Friday evenings, December 1st, 8th, & 15th, with horse and Carriage rides and entertainment from 6-9pm.