Cork & Ale Festival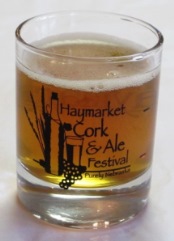 Friday, April 22, 2016
7:00 - 10:00 pm  |  Holiday Inn Downtown
Tickets for the event are $30 per person, which includes a souvenir 3oz glass.
The Historic Haymarket's 9th Haymarket Cork & Ale Festival will be hosted at the Holiday Inn Downtown from 7 p.m. to 10 p.m. on Friday April 22nd, 2016. Our unique, intimate wine and beer-tasting festival will feature beverages produced by breweries and wineries located all over the state of Nebraska as well as freshly created food from local eateries. Participating vendors will be at the event to instruct wine and beer connoisseurs in the science and art of ale brewing and wine fermentation.   Live music and raffle prizes will also be featured at the event
This year's event will include beer and wine samples from:
Food Vendors:
More beer, wine and food vendors will be added soon.  In the mean time, check out LHDC's facebook page and the Cork & Ale Festival community.