Haymarket in White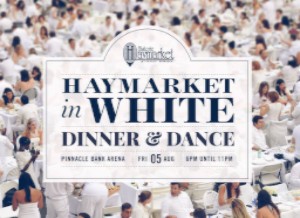 Dinner & Dance
Friday, August 5, 2016, 6 PM
Pinnacle Bank Arena
On Friday, August 5, 2016, the Lincoln Haymarket Development Corporation presents the 2nd Annual "Haymarket in White Dinner & Dance" at Pinnacle Bank Arena. Guests will dress all in white, dine on gourmet picnic fare and dance the night away. Attendees can spend an extraordinary night at an unconventional picnic at an event that encourages the community to come together to celebrate Lincoln and the Haymarket.
 Cocktail hour is at 6:00 p.m. with dinner at 7:00 p.m. Music will be provided by The 402. Two gourmet picnic dinners will be offered with one free signature cocktail during happy hour. Tickets are $45 and $50 per person, depending on dinner selection.
$45 per person - Napa Dinner
Smoked Turkey Breast, Sliced with Cranberry Citrus Chutney and Whole Grain Garlic Mustard. Served with Silver Dollar Rolls, Fresh Spinach and Sliced Tomatoes for Sandwiches. Enjoy a French Brie Display with Crackers and Strawberries along with a Greek Antipasto of Olives, Hummus, Crisp Vegetables and Pita Chips. Chocolate-dipped Strawberries.
$50 per person - Champagne Dinner
Seasoned Roast Beef Tenderloin Thinly Sliced, served with Hearty Horseradish Sauce and Beefsteak Bruschetta Salsa, Fresh Basil, and Crostini. Crab Salad Sriracha Sliders. Summer Spinach Salad with Lemon Thyme dressing, wedge of Stilton with Water Crackers. Chocolate-dipped Strawberries.