Haymarket Unwrapped

Downtown Lincoln & LHDC Present...
Haymarket's 2nd Annual Gift Shopping Event
On December 3rd, 2016, from 11am-6pm (following Breakfast with Santa), Haymarket's unique array of specialty shops are offering sales, shopping, culinary delights, live music and more! 
This FREE event will allow shoppers to enjoy special discounts, prizes, appetizers, live entertainment and special sleigh rides as you stroll through Downtown Lincoln's Historic Haymarket District.
---
Where to Go & What to Do
Click Here to See Participating Stores and Their Promotions
Click Here For An Interactive Map of Haymarket Unwrapped Locations

---
How to Get Around
Santa's Pedicab Sleigh
Santa and his helpers will be at your disposal to provide lifts around the Haymarket District during Haymarket Unwrapped.  This Sleigh is giving Rudolph the night off and using Pedal Pusher Power in its place, which is just as magical.
Parking
Red 1, Green 2, Blue 3, Lumberworks and Haymarket Garages will all be available for FIRST HOUR FREE parking during the event.  
Click Here for an Interactive Parking Map
---
Live Entertainment
See live entertainment outside the Creamery Building on 7th and P Streets, including performances from the Lincoln Boys Chorale Choir and the Capitol City Cloggers from 1:00 p.m. to 4:30 p.m.
Additional entertainment will include festive volunteers strolling about the area from 1:00 p.m. to 4:00 p.m.
---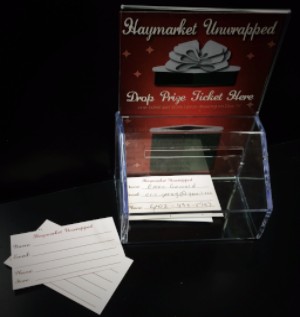 PRIZES
As a thank you to all Haymarket Unwrapped customers, there will be plenty of chances to win prizes during the event.  
Every store will have raffle boxes and forms, where you can fill out a ticket for a chance to win several prizes including Haymarket store merchandise, in-store gift cards and Downtown Lincoln Gift Cards.  
You will be able to fill out one ticket for each store you visit during the event, so make sure to explore the entire area.
Prizes will be selected and announced via Facebook and email on Monday, December 5th.  
---
Thanks to the 2016 Haymarket Unwrapped Sponsors!