Fall is in full swing! Grab your parka, hoodie, or cardigan and check out some art and culture!
Happy First Friday everyone!
October's Downtown First Friday listings:
The Marz Bar and The Hot Mess are joining the art walk mix….
Where: Marz Bar, 1140 O St.
When: 5 pm - 10 pm
Who: Paintings by Shereen Zangeneh. "I navigate the eye across the work into vital intersections and gestures as a way to documenting my intuitive abstractions of the subject. At a distance the graphical nature of the bold line/ hard edge is evident in my works. Notwithstanding, the viewer must step forward to the piece, due to large scale, to be afforded a personable moment with my process and navigation. In my oil paintings I structure dense colors into geometric forms. I use the grounded, bold figure not only to sharpen my craft but also to discipline my hand to manifest the mystique of personhood."
What: https://www.facebook.com/marz.bar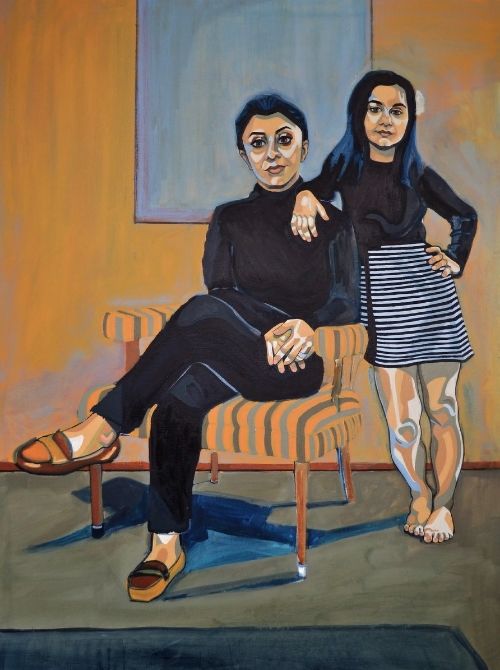 Where: The Hot Mess, 408 S. 11th St.
When: 7pm - 2am
Who: "Shank What Yo Mama Gave You" - Art by Saber Blazek
What: https://www.facebook.com/getmessy


New listing at Mix dance club includes visual art and live music. The idea behind it is to create an event that not just has art for viewing but to start a conversation giving artists in our community a louder voice.


Where: MIX, 1427 O St.
When: 7pm - 10pm
Who: Mosaic First Friday: Rethink. There is a different "theme" for each show and for September it is 'Rethink' which we are going to use to challenge people to create art in their daily lives and support the idea that the greatest work of art we can create is our lives.
What: http://www.mosaicfirstfriday.com


Also…..make sure you check out our new contemporary arts gallery and center in lincoln.


We are excited to announce that Darger has a new brick and mortar headquarters, located in the Parrish Studios in downtown Lincoln, Nebraska. Darger HQ will continue its mission of promoting artists online while expanding to host physical exhibitions and provide community outreach. Every month, exhibitions will feature international artists alongside local artists in the Project Room. Outside the framework of the gallery program, Darger HQ will engage in educational outreach, host lectures, workshops and performances and organize community-based programs such as the downtown window installation initiative and contemporary art happenings in Lincoln.


Where: Darger HQ, 1410 O St., Suite 1
When: 6pm - 10pm
Who: "The Sovereigns" featuring Jean-François Leboeuf (Montreal, Canada) & YK Hong (Brooklyn, NY). Local Artist Gallery: Raws. Jean-François Leboeuf, YK Hong and RAWS' work is rebellious, revolutionary and defiant. They are supreme rulers, sovereigns, possessing power of their own expressions and their work is done independently and without outside interference, defying conventional notions of gender, race, sexuality and societal norms.
What: http://www.dargerhq.com // 402-209-5554



Where: Tugboat Gallery, 116 N. 14th St.
When: 7pm - 10 pm
Who:"Focus" featuring Anne Burton, Trudie Teijink and Michele Tilley. "Focus" is a sharp-clean-sophisticated exhibit utilzing digital print, graphite drawings and acrylic paint. Music by DJ Ol' Moanin',
What: http://www.tugboatgallery.com/




Where: Burkholder Project, 719 P St.
When: 7pm - 9pm
Who: Nebraska Landscapes… "It was a dark and stormy night" - by Anne Burkholder, New and Unique Jewelry - by Pam King, Photography: Nebraska Landscapes - by Alan Smith, Oil Paintings by Jim Miklavcic, "A Parliament of Owls: Needle Felt Sculptures" - by Michelle Liebgott-Osinga
What: http://www.burkholderproject.com/


Where: Doc's Place, 140 N. 8th St.
When: 6pm - 9pm
Who: Peace Corps Photographer, Dan Luedert. As a Peace Corps volunteer, photographer Dan Luedert traveled to Guyana and Suriname. There, he taught technology and business development and explored the region with his camera. Now nearly a decade old, these photos represent Luedert's last endeavor in film. "If you look closely, you will see scratches, double exposures and dust in the emulsion," Luedert said. "Few things but our memories are perfect. These prints are a celebration of those imperfections and the beauty they offer."
What: https://www.facebook.com/DocsPlaceBar


Where: Noyes Art Gallery, 119 S. 9th St.
When: 6:00 pm - 9:00 pm
Who: Focus Artists this month: Kevin Baker - Wood Sculpture, Erna Beach - Wood carvings, Wendy Bonge - Sculpture, Rob Borzekofski - Watercolor/Charcoal, Nancy Fairbanks - Ceramics, Deb Goodenberger - Pastels, Susan Hart - Collage/Mixed Media, Deb Monfelt - Oil
What: http://www.noyesartgallery.com/




Where: Sheldon Museum of Art, 12th and R St.
When: 5pm - 7pm
Who: Photographs by Daniel Chauche. The Sheldon Museum of Art is collaborating with Daniel Chauche to present the first museum exhibition of his photographs in the United States. Chauche, who has been photographing Guatemala since late 1975, presents a cultural, historical, and political narrative through his own unique gaze, creating images that are both anthropological and deeply personal. Capturing the "future past" is central to Chauche's approach: his intent is to photograph iconic images of everyday life that will be representative reflections of the past for future generations.
What: http://www.sheldonartmuseum.org/


Where: Gallery Nine, 124 S. 9th St.
When: 6:30pm - 9:30pm
Who: "Mining For Color & Form" New Work By Cathy Patterson and Carol DeVall, featuring acrylic paintings, watercolor, ceramic creations and a few surprises by two artists with styles that differ, but are united by color that pops, simmers and sizzles!
What : http://gallerynine.wordpress.com/






Where: Screen Ink, 416 S. 11th St.
When: 7pm - 10pm
Who: Community Crops Food Art Exhibit. We teamed up with the wonderful people at Community CROPS to present a food and garden themed art exhibit. This event is a "grand finale", of sorts, to their Annual Harvest Campaign. Over the last few months we've been collecting artwork from local artists who drew, painted, illustrated or sculpted something that relates to food or gardening. We're all super excited to present this body of work! Join us for some light food, refreshments and art appreciation. All proceeds will be donated to the Community Crops.
What: http://screenink.com


Where: Great Plains Art Museum, 1155 Q St.
When: 5pm - 7pm
Who: Narrow All Horizons: Selected Works from the Permanent Collection and Recent Photographs by Jan Christensen
What: http://www.unl.edu/plains/gallery/gallery.shtml


Where: Kiechel Fine Art, 1208 "O" St.
When:6pm - 9pm
Who: James Eisentrager | Retrospective. Kiechel Fine Art has announced their fall showcase as a retrospective show for the late Nebraskan artist, James A. Eisentrager (1929 - 2002). James A. Eisentrager's works included in this retrospective exhibition will span from his controversial figural military themed paintings to his use of combining art and the Pythagorean Theorem. The majority of these works have not been seen since their creation and for their first time will be made available to the public for purchase this September.
What: http://www.kiechelart.com/


Where: Workspace Gallery, Sawmill Building | 440 N. 8th Street
When: 6pm - 8pm
Who: Clarissa Bonet: http://clarissabonet.com
What: https://sites.google.com/site/workspacegallery/


Where: Metro Gallery, 1316 'N' Street
When: 3 pm - 7 pm
Who: visual images of Barry Mosley, both paintings and photography.
What: https://www.facebook.com/MetroGalleryNebraska


Where: Indigo Bridge Books, 701 P St.
When: 7pm - 9pm
Who: curated by Artists on the Edge.
What: http://www.indigobridgebooks.com/


Where: Crescent Moon Coffee, 140 N. 8th St.
When: 8pm - 10pm
Who: Cody Schneider
What: http://www.crescentmooncoffee.com/


Where: Eisentrager-Howard Gallery, First floor of Richards Hall, Stadium Drive and T sts. on UNL City Campus
When: 5pm - 7pm
Who: No Show this month
What: http://arts.unl.edu/


Where: Jacht Ad Lab, 151 N 8th st., in the basement of the Dozo building
When: 6pm - 9pm
Who: Lincoln Ink Showcase featuring tattoo art from Seven Seas and Mojo's


Where: Gallery 105, 105 8th St.
When: 7pm - 10pm
Who:
What: http://www.bin105.com/


Where: Jake's, 101 N. 14th St.
When: 7pm - 2am
Who:
What: http://jakescigars.com/


Where: The Outlook Project. 3rd Floor above The Mill 800 P Street Suite 300
When: 4pm - 7pm
Who:
What: https://www.facebook.com/TheOutlookProject


Make sure you check out photos and extra info from the two excellent facebook pages.


https://www.facebook.com/FirstFridaysLincoln
https://www.facebook.com/LincolnFirstFriday


Also there is a Twitter Account for First Friday. Check it out: https://twitter.com/LNKFirstFriday or the hashtag #LNKFF


As always, if we've missed any listings feel free to send us a quick email at smunson@downtownlincoln.org and we'll get your listing added as soon as possible.